Outdoor investigation game in an "escape game" style from Pérouges, a pretty village in Ain to the east of Lyon. Between digital puzzles and game book, with the Investigation Kit, experience a new kind of treasure hunt, with friends or family (from 12 years old).
You are looking for a original activity, an investigation, a treasure hunt or an Escape Game to (re-)discover Pérouges? You are in the right place ! Between digital game and puzzle book, the most adventurers are going to have a great time. Notice to game lovers ! But first let us tell you a legend.
Once upon a time from Pérouges to Bugey...
An old legend says that once upon a time, when we strolled from Pérouges to Bugey, you could hear the tinkle of a fairy stuck in the blades of grass… Or the whisper of elves hidden behind an old wall in stone. Or even sometimes, if you listened carefully, to the elusive song of a mermaid in the reeds of a sleeping pond...

"Fantastic Pérouges and Bugey"– Office of Internal Affairs - 1865
But those are just old legends, aren't they? Because today from Pérouges to Bugey there are even more surprising things. Recently, a question is on everyone's lips, the same one that resonates in the alleys of Pérouges in Meximieux and which is spoken of in a low voice at bar counters… And this question, which only you can answer, is…
…but where did Edouard Weber go? An outdoor treasure hunt
You are probably wondering, what are we talking about? Elementary my dear Watson !
Du innovative game of the tourist office !
Un new kind of game : digital and game book intertwine to form a outdoor investigation, through the village of Pérouges and the town of Meximieux.
A adventure to the measure of the players, followers of theEscape Game and other treasure hunts.
Finally, who is this Edouard Weber?
A resident of Pérouges, a recognized archaeologist, disappeared overnight, without leaving the slightest trace. A voluntary disappearance? Edouard's daughter, Diane, refuses to believe this version of the facts. Especially since his father seems to have left him an enigmatic trail... Dream and reality, memories and the present time intertwine in this investigation game. Could this disappearance be just the tip of the iceberg? Over the puzzles, can you elucidate the disturbing mystery?
The concept of the kit survey : escape game in the open air
This is a treasure hunt in Pérouges "escape game style"More without time limit no stake in leaving a room, because the game takes place outside ! Throughout the puzzles, the game will take you through the cobbled streets of the medieval village and the streets of the town of Meximieux. The game is collaborative and can be played between 2 and 6 players. You'll have to call in your friends for reinforcements! And if you want to do it with your family, know that it is suitable for children from 12 years old.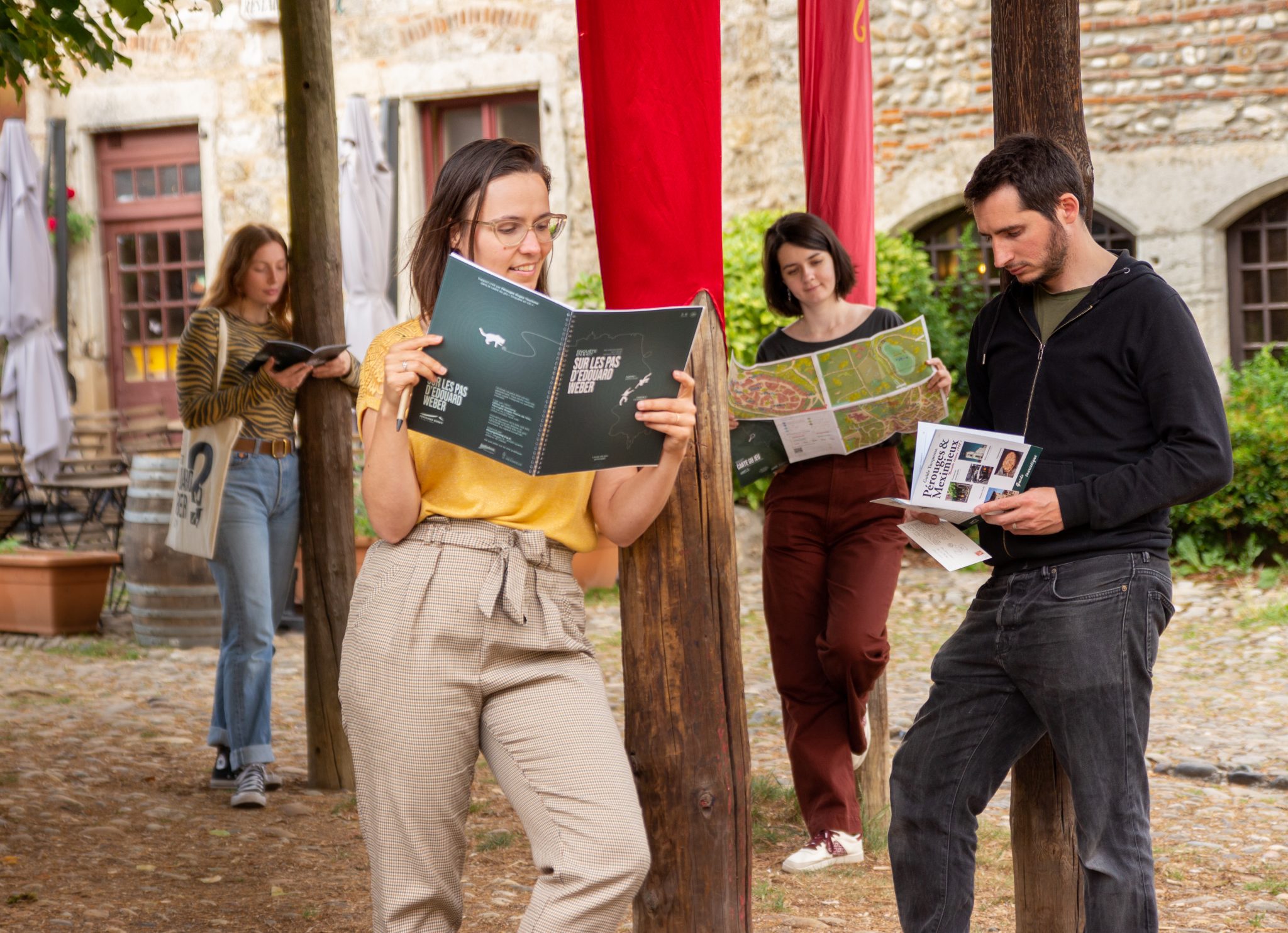 Can I play it between two slices of Pérouges galette?
Not so fast, dear investigators! It is a gripping investigation, which invites you to escape and immerse yourself in your own imagination. It therefore counts 2 parts, approximately 2 hours each. But do not panic ! The game is done independently and at your own pace, there is no time constraint. For the most motivated players, it is possible to do both parts in the same day with a picnic break in the middle. For those who prefer to take their time, it is possible to play over two half-days. You can play all year round, but for your comfort, the game is not recommended in case of bad weather, high temperatures or off-season (from November to March).
What's in my survey kit?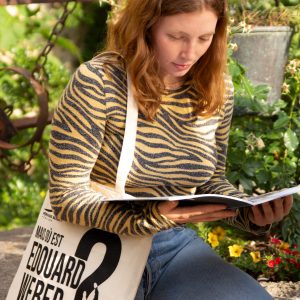 Everything you will need to find Edouard (or not 😈)!
First, your game kit is sold nicely packaged in a tote bag, for more practicality.
You will find the booklet which will be your main game tool…
…As well as'a map stylized to find your way around Pérouges and during the game. With a stylo to record the smallest details of your investigation.
A mysterious envelope with tools that will serve you to solve the puzzles of this treasure hunt like no other.
And what would an escape game be (even outdoors) without original puzzles, based on the technology ? Grab your most beautiful smartphone, you're going to need it to listen, view and geolocate!
Want to play and find Edouard?
Useful information
Price : 30€ / game kit – from 2 to 6 players (from 12 years old)
---
It is necessary to do first part 1 (Pérouges) to be able to do part 2 (Meximieux). It should be noted that the course of part 1 is 1,5km, the course of part 2 is 4km. The elevation gain is 100m and the circuit makes a loop.
A smartphone is required to play (at least one for the group). It must be loaded, with internet access and applications with the following functions: reading QR codes, e-mail, web browser and reading GPS points ("Google maps", "Maps" or similar).
The clever advice of the tourist office : Provide good shoes, a water bottle and clothes adapted to the season. Attention, the game takes place partly in the medieval city of Pérouges, paved with pebbles, avoid the heels!