9 museums are to be discovered with us in Ain, near Lyon. Traditions of yesteryear, Jurassic fossils, medieval garden in Pérouges, archaeological treasures… Which museum will you fall for?
Railwayman's Museum
Notice to all train fans : immediate boarding at the museum!
At the Railway Museum, we go back in time from the origins of railway until our days. Railway life, discovery of machines or even stories of resistance : the passionate volunteers will be happy to take you for a ride. Be careful at the start, be prepared for the closing of the doors.
👉 Open Saturdays and Sundays from 14 p.m. to 18 p.m. all year round and from Tuesday to Sunday during school holidays in zone A. Group reservations possible. All their news here.
📍 Ambérieu-en-Bugey
Museum of Bugist Traditions
It's gone for one time travel, for all vintage lovers!
The different thematic rooms of the Museum of Bugist Traditions transport into the atmosphere villages of yesteryear. True immersion in the daily life of the inhabitants of the Albarine Valley, this family outing allows different generations to discover and understand each other.
👉 Open from April to October every Saturday and Sunday from 13:30 p.m. to 18 p.m. Group booking possible. All their news here.
📍 Saint-Rambert-en-Bugey
Rural Heritage Museum
New 2023 : tools and machines of the trades of yesteryear!
Make discover the rural heritage of Ain, here is the objective of the new Saint Vulbas Museum. Through an exhibition tractors, agricultural machinery, household objects and other tools, volunteers pass on valuable knowledge. For the most curious: repair workshops or even days of demonstration and machine driving are on the program.
👉 Open on Saturday April 29, June 24, August 26, October 28 and December 30 from 10 a.m. to 12 p.m.
📍 Saint Vulbas
Paleoecological Museum of Cerin
You said dinosaur ?!
Housed in a former wash house, the paleoecological museumcerin lake presents a superb collection of fossils. Discovered just above the museum, in present-day stone quarry, this place was at the time of the Jurassic, a tropical lagoon ! A quick visit to this small museum takes you back 145 million years.
👉 Open in July and August from Tuesday to Sunday and Sundays from April 16 to June 25 and September from 14:30 p.m. to 18:30 p.m. Group booking possible. All their news here.
📍 Marchamp
Old Perouges Museum
Traditions and amazing views in the medieval city !
The house of the princes, residence of noble of the city, accommodates the Museum of Old Perouges. Museum of popular traditions, you will walk to discover old objects. Discovery of the medieval garden and the panoramic view from the top of the watchtower are definitely worth a look. An atypical and unique place to change from the classic visit to the medieval city.
👉 Open from Easter to mid-November from Tuesday to Saturday from 10 a.m. to 12 p.m. then from 14 p.m. to 18 p.m. All their news here.
📍Pérouges
Digital Museum
Admire masterpieces from around the world in Chazey-sur-Ain!
Au digital museum, the most beautiful masterpieces in the world are accessible on a giant screen. Equipped with a tablet, you can choose an era, a theme or an artist and the works that compose them. Comfortably installed, let yourself be transported by all this artistic wealth ! Bonus point: another type of immersion thanks to virtual reality movies.
👉 Open every Saturday from 14 p.m. to 17:30 p.m. All their news here.
📍 Chazey-sur-Ain
Ordonnaz cheese dairy mini museum
For everyone the cheese freaks !
Le mini museum of the Ordonnaz cheese dairy presents the manufacturing secrets of a famous PDO cheese: Comté. Originally from the Jura Massif, this cheese is produced by hand in village cheese dairies, such as that of Ordonnaz. Closed since 1969, the museum which succeeded it since has kept all its rustic charm. Before leaving, a visit to adjoining store to take advantage of the sale of cheeses and groceries is required.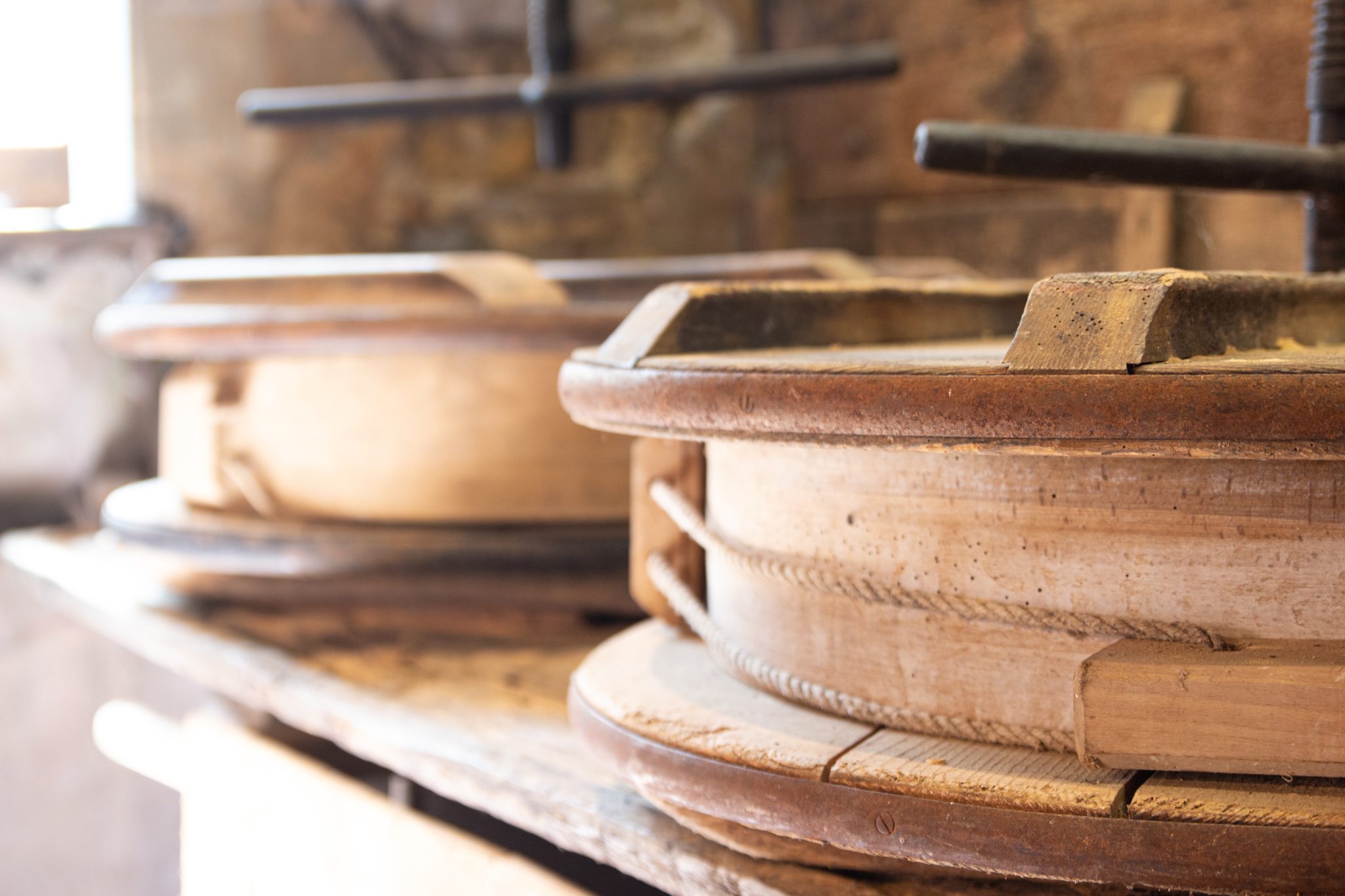 👉 Open Thursday to Sunday from 9 a.m. to 12 p.m. and from 15 p.m. to 19 p.m.
📍Ordonnaz
Museum "memories of yesteryear"
3000 objects tell the story of business and know-how of yesteryear !
At the Museum "memories of yesteryear", it is through objects from the beginning of the last century that local heritage is present. This great diversity of objects highlights the trades of yesteryear, the utensils present in the kitchens, old toys or even clothes worn by our ancestors.
👉 Open every Sunday from June to mid-October. Group booking possible. All their news here.
📍 Ambronay
Archaeological Museum of Briord
Discoveries Indiana Jones of bugey !
Open in summer, Briord Archaeological Museum presents the archaeological treasures from local excavations. In the municipalities of Montagnieu and Briord, the objects found are dated from Neolithic to Merovingian. Gold pendant, rings with monograms and rubies, flint or amulets are words that mean nothing to you? All the answers are in the museum.
👉 Open Saturdays in July and August from 14 p.m. to 17:30 p.m. Group booking possible. All their news here.
📍 Briord
And that's it for this tour of the museums! Scattered throughout our territory, each one has a particular charm. Now all you have to do is choose and plan the date of your next cultural outing 👍
And as a bonus : the Allymes castle also offers exhibitions throughout the year.
Which will you choose? 😉