The St-Sorlin tourist office welcomes visitors, tourists, cyclists and residents at the Lagnieu roundabout. It is close to the producer store "Le Bocal". What to fill up with info and good things 100% local.
Opened in 2021, this seasonal office of the tourist office welcomes visitors from April to October. It benefits from an ideal position, at the crossroads of the Viarhona, from Isère and 53 Commons de Perouges Bugey Tourism. This tourist information point welcomes cyclists, holidaymakers and locals, curious to discover the must-sees of Bugey. Whether they are passing through or staying, the advisers will be happy to share all the good addresses with them.
Good plan: office labeled Accueil Vélo!
The primary mission reception of the tourist office
Our advisers are at your disposal to inform you about the tourist offer nearby. Through personalized advice, our agents are there to help you create or complete your ideal stay or excursion. Thanks to their experience, they are delighted to share with you the most beautiful sites to see and the best addresses.
Trick : all year round 24 hour digital info point* is at your disposal in free access.
Even when our advisers are sleeping, they watch over your stay. Consult the information terminal in the window of the Saint-Sorlin office to find the best sights and diary.
Practical services for peaceful holidays
The Saint-Sorlin-Bugey office offers various practical services for all. He received the label Cycling home.
Bike repair equipment and troubleshooting doc
Map of the Viarhona and bicycle touring maps
Drinking water point
Free toilets (during office opening hours)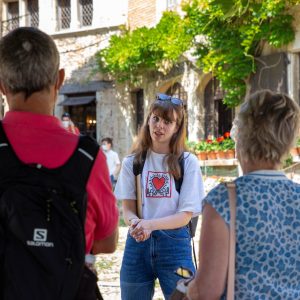 It is possible to book on site of guided tours villages of character
Bonus: the terrace of the tourist office waiting for you, free access all day.
Perfect for snacking on a picnic or taking a break while consulting the tourist map.
On rainy days, the small lounge area invites you to relax.
A souvenir shop and gift ideas
To treat yourself, as a souvenir or as a gift, the tourist office shop has what you need.
You will find timeless classics: postcards, pretty magnets, books... But also original gift ideas: reusable cups, neckerchief or elegant fabric bag. For hikers, several guides and topoguides are also on sale.
Gourmets will walk through the door opposite, to enter the producers' store " the jar ". Here only local products, often organic, with flavors of Ain: Ramequin du Bugey, ultra local and ultra strong cheese, Bugey wines – to accompany all your dishes – honey, jams…
Contact: office of the tourist office in Saint-Sorlin-Bugey
33 Port Street,
Roundabout, leaving Lagnieu
01150 Saint-Sorlin-en-Bugey
Open from April to October:
Wednesday to Saturday from 10 a.m. to 00 p.m. and from 12 p.m. to 30 p.m.
Closed the rest of the year (except December)
*INFO POINT 24 hours a day
Free consultation all year round.
Find good addresses, tourist sites and the agenda.
Visitors can also go all year round to the Perouges tourist information office